Driver recruitment and driver retention are still very much on the agenda for transport logistics operations. Whilst reporting this issue appeared to be a zeitgeist 12 months ago, it now seems to be dropping from the news radar in favour of the more exciting technological advances in logistics such as autonomous vehicles, AI and robotics. These developments are great and will undoubtedly revolutionise the logistics industry in time. However, driver shortages are a real and present issue and so in this article we propose a few, possibly unconventional, ideas for driver retention.
Paragon Software Systems, who develop software to facilitate transport route planning, carry out an annual UK customer survey to find out what their customers feel are the biggest challenges facing them in the coming year. This year's survey results make interesting reading, with the findings predicting that driver shortage is going to be one of the biggest challenges in 2018 and one of the main issues facing the transport sector this year. The survey revealed that nearly half of all respondents (46%) felt that the success of logistic operations would be hampered by the lack of drivers along with the lack of skilled workers in the industry. When comparing the results to last year's findings, this concern is up over a third from 37%. So, what can be done about driver retention?
First, how the industry plans to attract new drivers…
The survey delved into how new talent could be attracted to the logistics sector and the responses were varied and fascinating.  Most of the respondents (over a third) felt that there needed to be greater educational and training initiatives to drive attraction to the industry. They felt that the industry needed to be more creative in what they were offering young people and how they attracted people to find out more about the industry. Specifically, they thought that improved engagement was needed, more apprenticeship schemes should be offered and remodelled and better-defined career paths should be mapped out. Another quarter of respondents added that they felt there needed to be improvements in pay.  There was also a consensus that the whole image of logistics needed a re-brand and that the industry needed to start promoting itself as more cutting-edge, dynamic, modern and innovative – driving development and embracing the benefits of the latest technologies.
What should be done to retain drivers?
Re-branding the image of driving, introducing improved apprenticeship schemes and paying higher wages are all excellent initiatives, but they're of little value if driver retention issues aren't addressed. Getting people into the industry is one thing, but keeping them there represents a different set of challenges. Below we offer some insight into ways that may help retain drivers.
Learn to respect the role
Drivers get a hard time. There's a perception of the role as being easy, after all, it's mainly sitting down listening to the radio with no supervisor leaning over your shoulder. This may have been a reality back in the 1970s with less congested roads, no in-cab communications (barring the CB Radio of course!) and no telematics and cameras monitoring driving efficiency. Drivers back then also didn't have a telephone number written in 2-foot-high letters across their trailer inviting anybody they may have mildly disgruntled to call their company and complain about them. Imagine every manager having a telephone number on their back so that people could call and complain…
We need to get this 'easy job' image corrected and in line with the challenges drivers face in a modern distribution environment. Drivers must now face congestion issues, high volume multidrop schedules, parking constraints, driving style performance monitoring and, most challenging of all, they are customer facing. When things go wrong, it's often the driver that's there to face the wrath of the customer. We need to understand these issues and we need to start building respect for the role.
How do we build respect for the role?
Logistics operations managers get very good insights into warehousing operations because they are right in front of them. They can walk around, see problems and talk directly to the people doing the job. Transport logistics is different, it's happening off-site and out of sight. Consequently, there is less opportunity for the manager to see and tangibly appreciate issues that drivers face. Every logistics manager that has, within their management remit, transport operations should regularly climb on board and join drivers for the occasional shift. They should get up close and experience issues directly and not simply through telematics reports.
We should also consider engraining respect for the role in the new generation of logistics managers.  It's interesting that many of the major 3PLs will have graduate or development training programmes that may include periods of working in a warehouse, but not driving vehicles. Taking time out of the equation, the cost of learning to drive HGV Class 1 is between £1,000 and £2,000, so not a prohibitive cost when considering the general expense of training programmes. Many companies will spend more on generic team building or mentoring training courses, which will have much lower value long-term, than hands-on practical experience at the 'coal-face' of the industry. We appreciate that this suggestion is a bit 'left-field' and may have practical constraints, and that spending 3-months or so driving a truck may not be what executives of the future expect to do, but you can be assured it would give them insight and respect for the role.
Embrace technology for the drivers benefit, not just the customers direct benefit
The Paragon survey highlighted that respondents felt that, in addition to driver shortage, planning pressures were also a key challenge. It was interesting to note that 86% of respondents felt that customer expectations were becoming more prevalent and that customers wanted technically driven visibility and accuracy on their delivery, including real-time data and communications. The technology to facilitate this exists and is constantly being further enhanced, but in terms of driver retention there should also be a focus on technology that supports the driver, not just the customers' expectations.
Where possible, technology that supports the driver, as opposed to simply monitoring their position, timing and performance, should be deployed. Semi-autonomous cruise control, blind spot assist, 360' cameras and lane-keep assist are all technologies available now that help the driver concentrate on the road and reduce fatigue. Roads are busy and if you spend all day, every day, driving then the risk of an accident is high.
There's also been a lot of talk by industry bodies saying that roadside services need to be improved for drivers. There's absolutely no doubt that this is true, but it simply isn't in the control of the company employing the driver. However, there are things that companies can do to improve driver comfort, certainly for long-haul drivers. Improvements in battery technology now mean that cabs can run air-conditioning and heating overnight, have refrigeration compartments and even clothes dryers.
Of course, there is a cost to this and the transport logistics sector is under cost pressure. In fact, in the Paragon survey, transport cost was identified as the second biggest concern beyond driver shortage. However, these types of basic driver comforts are a relatively small expense, in terms of the lease cost of a vehicle, and they can have a big impact on the well-being of the driver and consequently driver retention.
A radical suggestion, but why should the job just be 'driving'?
Driving can be a stressful experience, especially if you're doing it all day, every day. A long-distance driver will spend significant time away from home and a multidrop driver will have their days filled with time pressures, congestion, parking issues and a few beeps and hand signals for good measure. To avoid role 'fatigue', companies should look at opportunities to offer role flexibility. Perhaps moving drivers periodically from long-distance to short haul or multi-drop. Maybe even switching with warehousing roles. Why not make drivers multi-skilled logistics operations professionals, where driving is only one part of the job and it is mixed with other logistics operational roles? This will not only help retention, but it will also provide the business with a more flexible workforce and give the driver a better platform for career progression.
What's the point? Autonomous vehicles are on their way…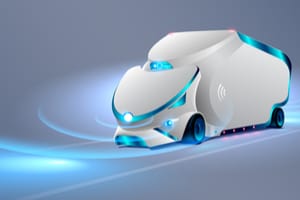 In the Paragon survey, respondents were asked what they felt would be the most significant and relevant transport development on the horizon. Surprisingly, only 45% of respondents found the idea of autonomous vehicles good in principle and most of those felt that the technology was not suitable for the UK transportation network.
There's no doubt that the UK network, unlike the long straight roads of the USA, will present some very specific challenges to autonomous vehicles. Further to this, the deployment of the technology is still too far off to really have an impact on the current driver shortages. Even when we do see autonomous truck platoons on our roads, their use will be restricted to trunking and one-stop long-haul movements: multidrop is likely to require drivers for several decades yet. Consequently, and as reflected in the responses to the Paragon survey, autonomous vehicles are not going to impact the driver shortage issues anytime soon.
---
If you would like advice and support on any aspect of logistics, then please contact our consulting team today. You can call us on 0121 517 0008 or email [email protected]